November 3rd, 2016
With only two months remaining in 2016, many fundraisers at colleges and non-profits are increasingly focused on securing important end of year donations. Timing can be everything, so identifying prospects who have recently come across large amounts of cash is a critical ingredient to a successful yearend.
Donor Watch's latest market report includes more than 8.2 thousand executives who sold $11.6 billion in stock during the third quarter of 2016. Topping the list are executives from the Pacific Coast ($3.9B), Southern ($2.3B) and Mid-Atlantic ($2.2B) states.
Executives from Seattle, San Jose, Silicon Valley and downtown San Francisco, drove the Pacific states to the top of the list. The Southern region was powered by executives from Dallas, Houston, Atlanta and Austin. while the Mid-Atlantic region was powered by Manhattan, Newark and the Baltimore suburbs.
Top prospects from the Southern region include R. Stephen "Steve" Stagner of Texas and Richard "Rick" Smith of Georgia.
| | |
| --- | --- |
| - | Steve Stagner, who is the former CEO and current Executive Chairman of Houston-based Mattress Firm, sold $64 million in stock over the third quarter, driving his Accumulated Stock Wealth up to $95m. |
| - | Rick Smith, who is the CEO & Chairman of Atlanta-based Equifax, sold $32 million in stock over the past quarter, driving his Accumulated Stock Wealth up to $173m. |
In addition to renowned philanthropists, the list also includes thousands of lesser known millionaires who are often more discreet about their wealth and philanthropy efforts.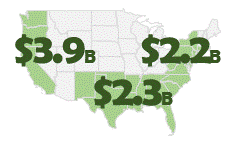 Prospect Profiles - Quick Facts

---

R. Stephen Stagner
Accumulated Stock Wealth: $95m
Total Value Sold (Last 12 Mos.): $68m
Education:

Stephen F. Austin State University

Current Role:
Executive Chairman, Mattress Firm
Causes:
Cancer Research
Mattress Firm Foundation
Rousche College of Business Advisory Council

---

Rick Smith
Accumulated Stock Wealth: $173m
Total Value Sold (Last 12 Mos.): $50m
Education:

Purdue University

Current Role:
CEO & Chairman, Equifax
Causes:
Atlanta Committee for Progress
Boys & Girls Clubs of Metro Atlanta
Georgia State University
Operation HOPE
Southern Methodist University's Cox School
The Lovett School
YMCA of Metro Atlanta
The Lovett School, Woodruff Arts Center
Donor Watch provides its actionable insights and real-time alerts to the development offices and prospect research teams at leading colleges, universities and non-profits. Donor Watch's unique and robust set of research tools empower fundraisers and prospect researchers to manage their relationships with top and high potential donors. For more information and free access, please sign-up for free Donor Watch trial today.